Putting on an event of this caliber is costly – while many individuals and organizations have already come on board to sponsor this event and more sponsorships are being sought, the MWFC also decided to give Fiero owners another opportunity to contribute by bidding on unique Fiero-related merchandise through a monthly auction series in 2022 and 2023.
Reservations are now available for the Host Hotel of the 40th Anniversary Celebration of the Pontiac Fiero Presented by M1 Concourse! To be held July 12-16, 2023. The rate for July 10-18, 2023 at the Auburn Hills Centerpoint Marriott is $134. Rooms are booking fast. If room block is saying sold out that means one or more nights block is full and you will be required to pay retail rate for those nights and can pay the block price for the other nights. If this is needed please call +1 248-253-9800 to reserve
MWFC is projecting that 400 Fieros from all around North America will attend along with guests from around the world. Register today and lock in your chance to expierence the M1 Concourse first hand.
The Midwest Fiero Clubs (MWFC) is a non-geographical region of the AACA, currently consisting of individual members from around the United States who are associated with nine deferent member clubs that collectively comprise the MWFC. These member clubs presently include: the Heartland Fiero Club (of Iowa), Michigan Fiero Club, Wisconsin Fiero Fanatics, Mid-Atlantic Fiero Owners Association, Northern Illinois Fiero Enthusiasts, Kansas City Fiero Owners Group, Minnesota Fieros Forever, Midwest Fieros (of Nebraska), and Mid-America Fieros (of Kentucky). We are a dedicated group of enthusiasts whose passion is to promote and preserve the Pontiac Fiero and the Fiero Community.
Every five years since 2003, the core members of this group have been involved in organizing and directing Fiero Anniversary Celebration Events. These celebrations commemorate the 5-year incremental anniversaries of the first day the Fiero began production of consumer cars, July 16, 1983. The 2003 and 2008 events were held at the Centerpoint Marriott in Pontiac, MI with outings to surrounding facilities including the GM Heritage Center, Waterford Hills Race Course, and Milan Dragway. The 2013 event was held in Indianapolis, IN and featured a day at the Indianapolis Motor Speedway driving our Fieros on the track! The 2018 event was held in East Peoria, IL to tie-in with an outing to the Pontiac, IL Pontiac-Oakland Museum. For the 2023 event, we are currently making plans to return to the birthplace of the Fiero, Pontiac, MI.
The 40th Anniversary Celebration will include numerous events including a distinguished speakers event, a visit and scavenger hunt with the Pontiac Transportation Museum, a day at M1 Concourse, and our feature show at the host hotel. Other events will occur at our host hotel, the Centerpoint Marriott. This celebration will bring home the last Pontiacs made in Pontiac, MI, including the very last car ever pro-duced there – a 1988 Pontiac Fiero GT. Other cars that will be on site include the remaining Fiero PPG Pace Cars, the 2+2 Fiero prototype, other Fiero prototypes and other special Fieros from private collections. One of the three original 1984 Fiero Indy Pace Cars is already conrmed to attend, and it is anticipated that the other two cars will also be on hand, making this event the first time all three cars have been together since race day in 1984. MWFC is projecting that 400 Fieros from around the United States will attend along with guests from around the world. Our Fiero community is a friendly, diverse group that gets together to enjoy the camaraderie of our fellow Fiero owners and exchange all things Fiero.
While this anticipated collection of Fieros is quite special, an even more extraordinary part of the event will be the assemblage of people that will come together to celebrate the Fiero including members of the Pontiac Motorsports Division, such as Ben Scheiwe and John Callies, members of the Pontiac Design Studio and Pontiac Engineering along other key members of the Fiero team. MWFC is also going to issue a special invitation to all individuals who worked at the Fiero plant to come and celebrate one of the most unique cars General Motors ever produced.
M1 Concourse blends style and speed, offering the perfect automotive events and entertainment venue at our 87-acre property including a motorsports community of Private Garages and its own private Motorsports Club. This state-of-the-art facility features indoor and outdoor spaces that overlook the 1.5-mile Champion Motor Speedway performance driving track. M1 can transform any event into a one-of-a-kind exclusive experience. The M1 Concourse is conveniently located on the legendary Woodward Ave. in the city of Pontiac and is less than 35 miles from Detroit's Metropolitan International Airport.
In short, M1 Concourse is the epicenter of all things automotive in Metro Detroit, providing a place where enthusiasts can keep, show, and exercise their vehicles in the company of other enthusiasts! (Source: https://m1concourse.com/about-us/)
We will will offer two options for the track day event, parade laps and performance laps. Parade laps ($25) will consist of multiple laps around the M1 Concourse track at Parade speed (20 to 30 MPH). It will be in a Lead / Follow format that permits a passenger. Our parade group is limited to the first 30 – 60 Participants. Performance Laps ($100) will consist of a minimum of two 20 minute sessions. It will be in a Lead / Follow format in 3 car groups. Speed will be based on each groups experience level. No passengers are permitted during performance sessions. Entry in the performance group will also qualify you for participating in the parade laps. Participation is limited to the first 30 registered. The track will open for performance laps at 7 AM. Parade laps will occur late morning. Schedule TBD June 2023
All cars must pass a tech session appropriate to their driving class (parade laps & performance).
All drivers must undergo driver training prior to setting foot on the track.
Parade Laps Tech Requirements:
Tires sent to recommended pressures

Tires – No Dry rot

Loose Items removed interior

Floor Mats Removed

Seat belts properly installed, inertia reels operational, good condition

Steering Wheel – No play

Mirrors mounted securely

Seats mounted securely

Fluid Leaks – None visible

Battery securely mounted

Brakes have adequate pedal

Brake reservoir full

Functioning Brake and Hazard lights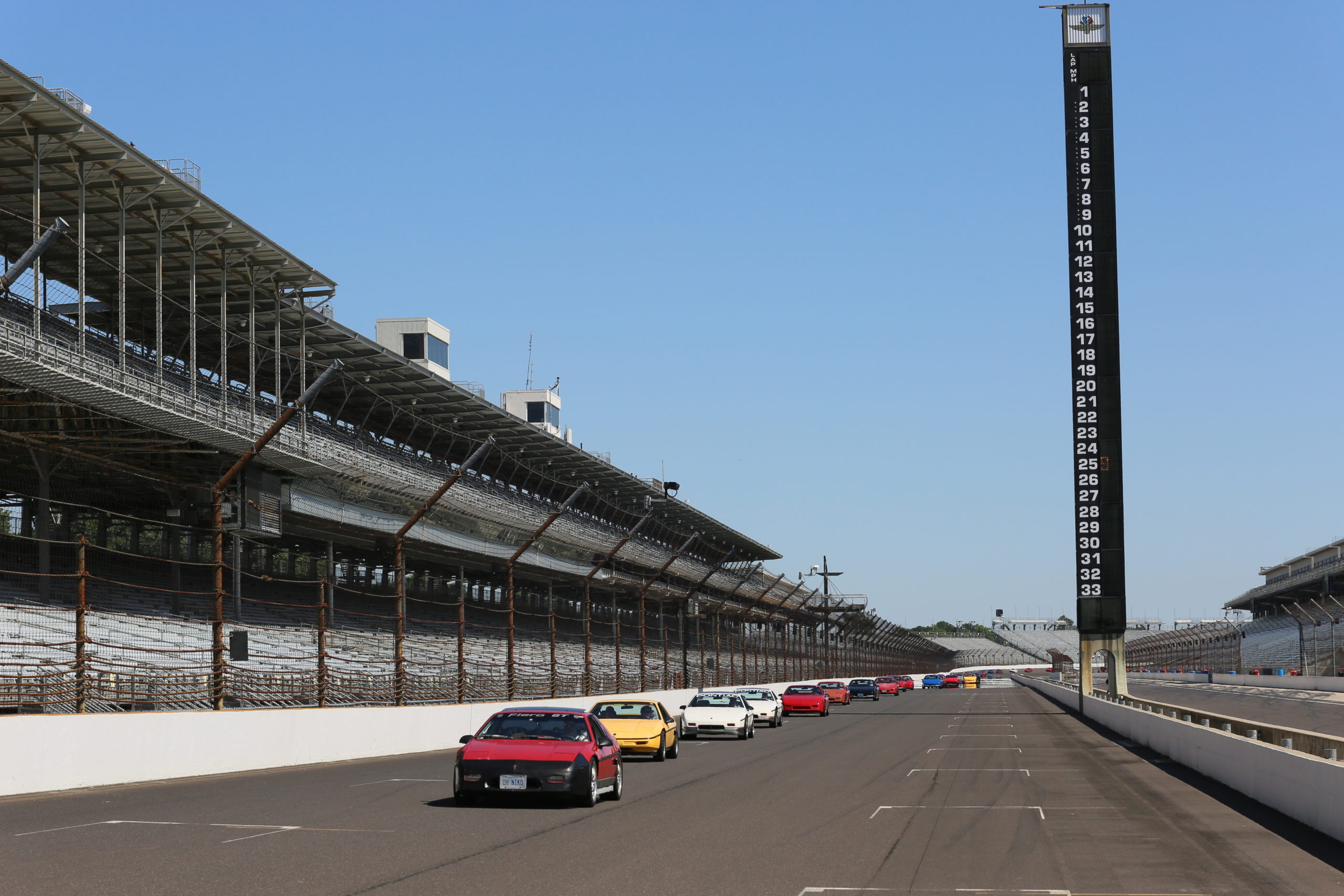 Performance Laps Tech Requirements:
Loose Items removed interior

Floor Mats Removed

Seat belts properly installed, inertia reels operational, good condition

Steering Wheel – No play

Mirrors mounted securely

Seats mounted securely

Roll Bars, if installed, must meet the minimum requirements of SCCA,

NASA, or other recognized sanctioning event.
Shocks in good condition

Brakes have adequate pedal

Brake reservoir full

Brake fluid is clear

Functioning Brake and Hazard lights

Brake Pads – Minimum 1/3 life remaining

Rotors – No signs of cracking
Tires no more than 4 years old

Tires sent to recommended pressures

Tires – No Dry rot

Tires – Above Minimum tread depth

Wheel Lugs – Torqued to spec.

Wheel Bearings – no play

Rims – Not bent or cracked

No structural rust near suspension components

Fluid Leaks – None visible

Battery securely mounted

Belts – No cracks or Fraying

Hoses – No leaks, Cracks, or Dry rot

Throttle return action safe and positive

Helmet meets Snell SNA 2015 or newer

Exhaust system securely mounted

Engine oil vent tank and Coolant vent tank (race preped vehicles)

Fuel and Oil lines inside the cockpit must be metal braided hose with AN




fittings or entirely covered with metal cover.
Join us for the 40th Anniversary Celebration!
https://fiero40th.com/museum/This event schedule will be changing frequently as more pieces are put in motion to bring you a Fiero-packed weekend. To view more information about any activities, just click on the Events link. Please continue to review as plans may change at any point. We apologize for any inconvenience.

Wednesday, July 12, 2023
Evening Visit: Private Car Collection Tour

Thursday, July 13, 2023
Morning: Pontiac Transportation Museum Tour
All Day: Pontiac Transportation Museum Scavenger Hunt
Afternoon & Evening: Distinguished Speaker Event at The Crofoot Ballroom Hall

Friday, July 14, 2023

AM & Afternoon: Track Day at M1 Concourse
All Day: Pontiac Transportation Museum Scavenger Hunt
Evening: BBQ at Pontiac Transportation Museum

Saturday, July 15, 2023
Sunday, July 16, 2023
AM: Awards Breakfast (Marriott)
AM: Awarding of Door Prizes (Marriott)
Volunteers are needed to help with every aspect of this event. Many volunteers make for a smooth-running event and we'd be grateful if you would be willing to donate even a small amount of time to this celebration.
You have questions. wE have answers.
Below is a list of some common FAQs if you have a question related to something below or something not listed feel free to reach out using our contact form. We look forward to seeing you on show day.